Healthy Chicken Caesar Salad | Полезный Цезарь с курицей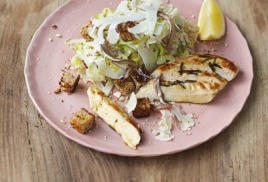 Звездный британский шеф повар Джейми Оливер пропагандирует здоровую пищу, простую и быструю в приготовлении. И при этом его блюда очень вкусные, с необычными кулинарными штрихами. Сегодня в меню его версия салата Цезарь в очень необычном исполнении. Смотрите, вдохновляйтесь, пробуйте сами.
И оцените его фирменный стиль общения со зрителями :)
Healthy Chicken Caesar Salad by Jamie Oliver
Jamie's chicken сaesar salad is lighter, fresher and half the calories of a regular caesar salad while still high on flavour. Replacing the mayo sauce with a quality yogurt dressing slashes the saturated fat content and using skinless chicken breasts sprinkled with rosemary keeps the dish lean. Finish with a grating of parmesan and tuck in.
"Finely sliced cauliflower isn't just delicious – when it's eaten raw we get twice as much vitamin B6 and three times as much potassium, keeping our nervous systems healthy "
The recipe
(Read more at http://www.jamieoliver.com/recipes/chicken-recipes/healthy-chicken-caesar)
Serves 2 Cooks In 25 minutes Difficulty: Not too tricky
Ingredients
| | |
| --- | --- |
| 1 lemon | 1 small red onion |
| 15 g Parmesan cheese | ½ a small cauliflower (300g) |
| 2 anchovy fillets in oil | 1 romaine lettuce |
| 4 heaped tablespoons natural yoghurt | olive oil |
| ½ teaspoon English mustard | 1 sprig of fresh rosemary |
| 1 teaspoon Worcestershire sauce | 2 x 120 g free-range skinless chicken breasts |
| white wine vinegar | 1 thick slice of wholemeal bread |
| extra virgin olive oil | |
Method
(a) Finely grate the lemon zest and Parmesan into a large bowl. (b) Slice and add the anchovies, along with the yoghurt, mustard and Worcestershire sauce. (c) Squeeze in half the lemon juice, add 1 tablespoon of vinegar and 2 tablespoons of extra virgin olive oil and mix to make your (d) dressing.
Now you're going to turn regular salad into a thing of beauty by either taking your time with good knife skills, or ideally, investing in (e) a mandolin for ease, elegance and accuracy (use the guard!). Start by (f) peeling and very finely slicing the red onion, then (g) stir it through the dressing. Click off and discard any tatty outer leaves from the cauliflower, then very finely slice it. Finely slice the lettuce by hand and pile both on top of the dressed onion, (h) tossing together only moments before serving.
Put 1 teaspoon of olive oil in a frying pan on a medium heat. Pick the rosemary leaves over the chicken and lightly season it on both sides, flattening it slightly with the heel of your hand. Cook for 4 minutes on each side, or until golden and cooked through. (i) Cube the bread and toast alongside the chicken, moving regularly until evenly golden and gnarly, removing only when super-crispy. Toss the salad together and season to perfection, slice up the chicken and serve with a sprinkling of croutons and lemon wedges for squeezing over.
TASK 1. Match the words in bold in the text above and their Russian equivalents in the table below.
| | |
| --- | --- |
| 1. Терка-шинковка | |
| 2. Порезать кубиками | |
| 3. Натереть на мелкой терке | |
| 4. Перемешать (2 варианта) | |
| 5. Заправка для салата | |
| 6. Выжать (сок) | |
| 7. Посолить, поперчить, добавить приправы по вкусу | |
| 8. Очистить от кожуры | |
TASK 2. Pick up 5 new words/phrases: 2 names of ingredients and 3 verbs. Write your own sentences with them.
Свои ответы вы можете оставлять в поле для комментариев ниже.
Изучаем названия пряных трав и приправ,
способы нарезки и приготовления,
прорабатываем их в интерактивных упражнениях
в полной версии онлайн курса
YAMMIE ENGLISH ВКУСНЫЙ АНГЛИЙСКИЙ.