Scrambled eggs and smoked salmon croissants | Яичница-болтунья с копченым лососем на круассанах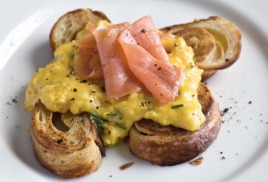 Traditional British family creamy egg and smoked salmon breakfast recipe. British celebrity chef Gordon Ramsay's luxurious take on an old classic tastes simply delicious and is perfect for Christmas.
Recipe
(the original version can be found at http://www.goodtoknow.co.uk/recipes/531417/scrambled-eggs-and-smoked-salmon-croissants)
Serves: 6 Prep time: 5 mins Cooking time: 10 mins
Skill level: Easy peasy Costs: Cheap as chips
Ingredients
4 large day-old all-butter croissants
Sea salt and freshly ground black pepper
12 large eggs (yes, 12. It's a Christmas variation for the whole family after all)
50g cold unsalted butter, diced
4 tbsp double cream
1–2 tbsp snipped chives
300g smoked salmon slices
Use brown bread for toast instead of croissants if you want to cut the calories.
Video
Method
Trim off the ends of the croissants, then slice each one into 4 or 6 thick rounds and season lightly with salt and pepper.
Break the eggs into a cold heavy-based non-stick saucepan; do not season. Place the pan over a low heat and add a few knobs of butter. Using a wooden spoon, stir the eggs frequently but not constantly, just to combine the yolks and whites.
As the eggs start to scramble, take the pan off the heat and use a spatula to scrape the egg from the sides and base of the pan. Return to the heat and keep stirring and scraping the pan until the overall texture of the eggs is like soft curds. This should take 5–6 minutes. Don't overcook the mixture – it should be moist and soft.
Meanwhile, heat a dry frying pan over a medium heat and toast the croissants on each side for 1–2 minutes until golden. Place the toasted slices on individual plates.
When the eggs are nearing the end of cooking, take the pan off the heat, add another knob of butter and then season well. Return to the heat and stir in the cream. Once the butter has melted, remove from the heat and fold through the chives.
Spoon the scrambled eggs onto the toasted croissants, drape the slices of smoked salmon on top and serve immediately.
= = = = = = = = = = = = = = = = = = = = = = = = = = = = = = = = = = = = = = = = = = = = = = = = = = =
TASK 1. Match the two parts of phrases from the recipe.
1 season lightly

2 non-stick

3 heat a frying pan

4 toast … on each side

5 take the pan

6 stir

7 the butter

8 fold

9 serve

A off the heat

B in the cream

C until golden

D through the chives

E saucepan

F immediately

G with salt and pepper

H over a medium heat

I has melted
TASK 2. Pick up 5 new words/phrases: 2 names of ingredients and 3 verbs. Make up your own sentences with them.
Свои ответы вы можете оставлять в форме для комментариев ниже.
Изучаем способы приготовления яиц и рыбы, сокращения в рецептах,
прилагательные для описания вкуса и консистенции блюд,
прорабатываем эту лексику в интерактивных упражнениях
в полной версии онлайн курса
YAMMIE ENGLISH ВКУСНЫЙ АНГЛИЙСКИЙ.